Paice Ashton Lord - Malice In Wonderland
Dieser Beitrag ist in Deutsch nicht verfügbar.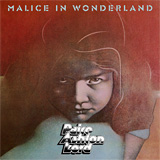 When Deep Purple disbanded in 1976, Jon Lord and Ian Paice decided to start a new band, not trying to recreate what they already had with Deep Purple but to explore new musical directions.
As frontman they recruited singer and keyboard player Tony Ashton. Jon Lord had already collaborated with Tony Ashton composing the soundtrack for "The Last Rebel" (published 1971 as "Musical score composed by Tony Ashon & Jon Lord, performed by Ashton, Gardner & Dyke") and on "First Of The Big Bands" (published 1974 as "Tony Ashton & Jon Lord"), an album which could be seen as some sort of blueprint for "Malice in Wonderland".
The lineup was completed with Paul Martinez on bass and Bernie Marsden on guitar, a brass section fronted by Howie Casey and two female background singers, Sheila McKinley and Jeanette McKinley.
The recordings took place in Munich in autumn 1976 in basement studio of the Arabella hotel (inspiration for the song "Arabella") and the album was released in early 1977, surprising many Deep Purple fans with a mix of Rock, Blues, Funk and Jazz.
To promote the album, a tour covering major European cities had been planned, but as tickets didn't sell as expected, most dates were dropped from the oncoming tour, leaving just five British dates to be performed.
As time went by, Tony Ashton felt more and more uncomfortable with his role as frontman of PAL and it also turned out the fans needed more time to adjust to the sound of Paice Ashton Lord as expected. By the end of 1977, the band started the recordings for a second album, but as the momentum was gone the album was never finished and the band called it quits in 1978.
"Malice In Wonderland" will be reissued on May 17 2019 by earMUSIC, using the 2001 remaster by Nick Watson for the tracks of the original album. The release will also include eight bonus tracks from the never finished second album, remastered in 2019 by Eike Freese. The booket contains previously unpublished photographs by Alan Messer and detailed liner notes by Simon Robinson.
Sadly the reissue misses the opportunity to include the "Sight & Sound In Concert" live recording, which would have been a perfect addition to this otherwise fine release of an impressive album.