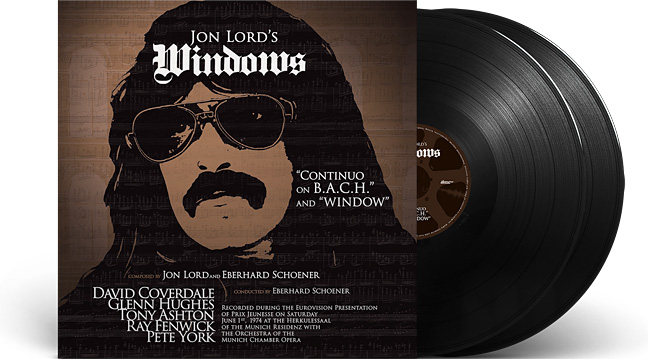 On September 27, 2019 earMusic will continue the series of Jon Lord vinyl re-releases with "Windows", an album featuring a cooperation between Jon Lord and conductor and composer Eberhard Schoener. Schoener, who was also involved in progressive rock masterpieces like "The Turn of a Friendly Card" by The Alan Parsons Project may also be known for being the creator of the main theme for the TV series "Derrick".
"Windows" was recorded live at the Herkulessaal in Munich on June 1st, 1974 as closing performance of the "Prix Jeunesse International" festival under the "Rock meets Classic" banner and was broadcasted by German TV station Bayerischer Rundfunk to a potential audience of 300 million people.
The album consists of two parts, the 18 minute piece "Continuo on B.A.C.H." and the name-giving 32 minute "Window" (without "s"), both composed by Jon Lord and Eberhard Schoener.
"Continuo on B.A.C.H." plays with the idea of continuing on "The Unfinished Fugue", the last part of "The Art of Fugue" by Johann Sebastian Bach and features way more Jazz influences than focussing on Jon Lords hard rock background (as the two predecessors "Concerto for Group and Orchestra" and "Gemini Suite" did) using the orchestra more as soloists than using them in a more conventional rock meets classic way.
The first part of "Window", called "1st Movement – Renga", was composed by Eberhard Schoener and starts with a more blues-like feeling featuring the voice of David Converdale, later contrasted by two sproaons, who make this part hard to enjoy in its entirety.
As the name hints, the second part "2nd Movement – Gemini" recycles the vocal section from "Gemini Suite", likely some sort of compromise because Jon Lord and Eberhard Schoener were running out of time. "Windows" was a contract work for the Bayerische Rundfunk to close the Prix Jeunesse International festival and had to be finished in time.
The closing "3rd Movement – Alla Marcia: Allegro", composed by Jon Lord reminds of "Gemini Suite" but also includes moments which would later become parts of "Sarabande", Jon Lords following solo work.
The band consited of Jon Lord on piano, organ and keyboards, his Deep Purple bandmates David Coverdale and Glenn Hughes, both on vocals and Glenn also on bass, Tony Ashton on vocals and keyboard and last but not least Spencer Davis Group members Ray Fenwick on guitar and Pete York on drums. The classical section included the Munich Chamber Opera Orchestra conducted by Eberhard Schoener, featuring sopranos Erminia Santi and Sigune von Osten, Günther Salber on violin, and finally well known actor Klaus Löwitsch as narrator.
Sadly the recording doesn't include leaves out the "Einleitungsfanfare zu Also Sprach Zaratusthra" by Richard Strauss and all narration parts by Klaus Löwitsch without explaination. This might have been because the narration was completely in German and its content hard to guess even for native German speakers. Thanks to Youtube, there is at least a low resolution video of the whole event available for everyone to watch.
While being published on LP in 1974, the first straight-to-CD-transfer of "Windows" was released 1987 by Line Records, followed by a 25th Remastered Anniversary Edition on Purple Records in 1999 and a reissue in 2010. The current vinyl reissue is based on the 2017 CD issue.