First of all it was sort of depressing to see someone like DIO performing in a small city in the middle of nowhere in a sports-hall.
The sound was bad the whole evening and it was really hard to find out what the bands were playing.
Black Symphony
As we arrived a bit late, Black Symphony were already on stage and I was only able to catch the last two songs. Last song was a strange cover of "Smoke On The Water" with the second verse sung twice - first by the bass player and after the solo by the singer…
Narnia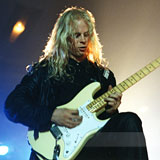 Narnia entered the stage afterwards and - from the few things I was able to hear - were really good.
They had the worst mix that evening - everytime there were vocals there was nothing else audible.
DIO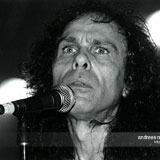 It was my first time to hear DIO and I was looking forward to it for a long time. The master himself was great to incredibe - but this guy trying to play the guitar…. Either
Dio has lost his complete hearing or
I didn't see the man with the gun who forced Dio to let this guy play
This guy ruinded every song with his playing, I still can't believe how bad he really was. And I didn't seem to be the only one. During the guitar solo, the spots to the crowd were turned on and - there was no reaction :)
Setlist was fine, although some songs were (as always:) missing. It included "Heaven And Hell", "Children Of The Sea", "Rainbow In The Dark", "Holy Diver", "Stargazer", "Mistreated", "Catch The Rainbow", "Man On The Silver Mountain", "Neon Knights", "Straight To Your Heard", "The Last In Line", "Long Live Rock'n'Roll" and two new songs I don't know.
Another thing I wasn't able to understand was why the drum solo was placed after the third(!) song.
Overall an evening which leaves some mixed feelings…
Ronnie James Dio and NARNIA photos provided by Stefan Glas.