This was the third time for me to see Deep Purple in 1998. After the weak performance in Karlsruhe and a brilliant show in Hanau (anyone else waiting for "Another Purple Rose Of Hanau"??) I was again hoping to see a great gig - although the venue, a big hall originally build for trade fairs, didn't promise the best rock'n'roll feeling.
As opener, the German metal band Sinner were chosen. I've known them by name for many years now, but this was the first time, I heard some of their music. And although some people don't seem to be too happy seeing metal bands opening for Purple (Hi, Svante :) me and a big part of the audience seemed to enjoy their show very much.
Talking about the audidence: anybody else recognized the average age of the audience seems to get younger and younger from year to year? I remember when seeing Purple back in 1993 I felt like one of the few younger people standing there - but in Trier I saw a lot of people who for sure were younger than myself.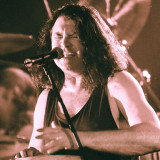 At about 21:00 the lights were turned off and Deep Purple entered the stage starting with "Ted The Mechanic". Although the sound wasn't as good in Hanau, the show and the feeling in the audience seemed to be a bit more enthusiastic (if this is possible…). The band was showing such a fun being on stage - it was just unbelievable, and also Roger Glover, who once said he's always happy when his solo-parts are over had several great solo-spots during the gig. Total winner of the evening was Steve Morse who played a just unbelievable solo which left me standing there with closed eyes, flying in a Purple dream.
I know there are always people interested in a setlist - here it is. I don't guarantee it's 100% correct - as I was there to enjoy the music and summed it up after the gig. Playing time about 2 hours.
Ted The Mechanic
Strange Kind Of Woman
Bloodsucker
Pictures Of Home
Almost Human
Watching The Sky
Woman From Tokyo
Fingers To The Bone
Any Fule Kno That
Smoke On The Water
Lazy
Perfect Strangers
Speed King
Encores
See you - hopefully soon on tour again.
Photo of Ian Gillan provided by Stefan Glas.