Deep Purple - Copenhagen 1972
Dieser Beitrag ist in Deutsch nicht verfügbar.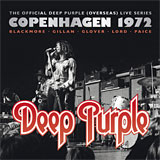 "Copenhagen 1972" is the second release of the earMUSIC "The official Deep Purple (overseas) live series".
While "Paris 1975″ features Deep Purple MKIII in their final days, "Copenhangen 1972" captures the legendard Deep Purple MKII at the peak of their career. Same as the Paris show, Copenhangen isn't a new release.
The recording is basically the soundtrack to the "Live in Concert 1972/73″ video (better known as "Scandinavian Nights (Live in Denmark 1972)" in Europe) and reintroduces three MKII bonus tracks of the video which were left out on the Sonic Zoom CD release. In addition to these tracks (recorded on May 29, 1973 in New York at Hofstra University, Hempstead, Long Island) a track called "1971 Australian Interview" has been included as additional bonus.
The main show, recorded at the KB Hallen in Copenhagen, Denmark dates to March 01, 1972 and shows Deep Purple right before the release of the "Machine Head" studio album, Ian Gillan introducing the opening number "Highway Star" as "What we got is a new song. It's one of the next album we got coming up. …". While a couple of Machine Head songs made the first of their now everlasting appearances, the show also included a rare live version of "Fireball" which had been replaced in the setlist by "Smoke On The Water" about a week later.
Originally recorded as a TV feature, the recording – although remastered – still shows some weaknesses soundwise, especially when compared to more prominent recordings like "Made In Japan": during the first tracks, guitar and organ are low in the mix while while drums and vocals dominate the scene, but this gets better during the following numbers. Contrary to the sound the band performance shows no compromises.
The bonus tracks, sound better than the Copenhagen show but sadly offer just a small part of Deep Purple 1973. The interview is ok for a one time listen, offering standard topics like the audiences being "really fantastic".
The discs are packaged into a slim digipak with one disc sitting right above the other which means disc juggling and some unavoidable scratches are going to happen every now and then.