Deep Purple - California Jam 1974
Dieser Beitrag ist in Deutsch nicht verfügbar.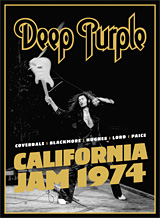 Deep Purples "California Jam" appearance, filmed on April 06, 1974 has been available on DVD since 2005. ear music now offers a new cut of the video as 2016 DVD and Blu-ray release.
While the DVD, issued in a standard DVD case, features the new version and a digitized Super 8 crew recording, the Blu-ray also offers the original video edit as bonus and is published in a nice Digipak. Prior to editing, the material had been processed to improve its quality which results in a brighter and sharper image compared to the unprocessed original cut.
Sadly, Stephan Liehr (who did the additional editing) did not only choose different and maybe better angles for some scenes, but played around with side-by-side pictures and faded overlays. Especially during sequences like Ritchie Blackmore's guitar solo in "Mistreated", where the front camera has been faded over the back camera the whole time, the new edit is just annoying and less enjoyable than the original cut which changes the camera from time to time.
As the audio and video quality didn't improve drastically and the new edit doesn't add more than some playing around with video editing software, there's no need to buy the DVD or Blu-ray if you already own "California Jam" on DVD.