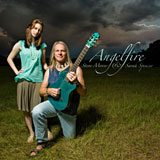 While the next Deep Purple album still seems to be far, far away, a new Purple-related side-project faces the light of day: Steve Morse joined forces with 22 year old Sarah Spencer to release a vocal album under the "Angelfire"-banner.
Accompanied by STEVE MORSE BAND musicians Dave LaRue on bass guitar and Van Romaine on percussion, the music featured on "Angelfire" has only little to do with Steves work with Deep Purple.
The primary focus is on Sarah Spencers voice with the guitar staying in the background most of the time, accompaning and accenting the vocal lines. Within this kind of clear and natural setup, it is hard to understand why Sarahs vocals have been altered on most songs by several effects, especially reverbs, instead of leaving the voice "the way it is".
The majority of the songs on the album are of calm nature, trying to impress with the beauty of little details instead of surprising with breaks or unexpected moments. This makes it hard to distinguish between the particular songs during the first few listens, but after a while songs like the Enya-like "Omnis Morse Aequat" begin to stand out.
However, I'm still wondering about the targeted audience: for Steve Morse fans there are way too few moments of the guitar taking the lead - for vocal fans the album has to compete with way too many albums following the "girl & guitar"-concept to have a real chance to be successful.