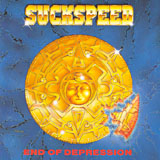 In Sachen Suckspeed klaffte in meiner Plattensammlung schon immer ein großes Loch. Zwar kannte ich die Band vom Namen her und mir war auch bekannt, daß sie irgendwann einmal eine Maxi mit einer Coverversion von Deep Purples "Storrnbringer" veröffentlicht hatten, doch damit war mein Wissen in Sachen Suckspeed schon erschöpft. Aus unerfindlichen Gründen hatte ich es nie geschafft, 'mal in eine Platte der Band hineinzuhören, geschweige denn, mir eine zuzulegen. Dieser Mißstand wurde dann aber eines schönen Tages von Stefan behoben, als er mir "End Of Depression" in die Finger drückte. Na ja, vielleicht wirkte ich an dem Tag zu deprimiert…
So fütterte ich dann völlig unbedarft und in freudiger Erwartung auf das, was ich wohl hören würde, meinen CD-Player mit Suckspeeds neuestem Werk und lauschte gespannt.
Schon nach dem ersten Anhören war mir klar, daß es ein Fehler war, sich nicht früher mit der Band zu beschäftigen, denn Suckspeed bieten auf "End Of Depression" eine musikalische Bandbreite, wie man sie heute (leider) immer seltener findet. Das Grundgerüst bildet eine Mischung aus Metal- und Hardcore-Elementen, die z.B. bei "House Of Sin" noch durch ein paar Bläser ergänzt wurden. Im großen und ganzen eine wirklich gelungene Scheibe, die sich über kurz oder lang auch bei mir in der Plattensammlung wiederfinden wird.
Beeindruckend (13/20)