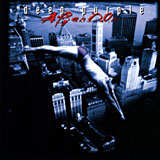 "Purpendicular to me is just a start" Roger Glover said in an interview back in September 1996. At that time I wasn't too sure if I should like that idea or not - but after listening to Abandon for about a week now, things have brightened up a lot.
As Stathis wrote in his review, Purpendicular showed a band on its way to explore strange new worlds, to seek out new sounds and melodies, to boldly go where Deep Purple haven't gone before. Abandon is the logical step after Purpendicular - presenting five musicians who found what they searched for and simply enjoy what they do.
Of course some die-hard Ritchie Blackmore fans will stand up and shout that this is no real Deep Purple - but how about the last albums with Ritchie? The name Deep Purple stands for progression and innovation and not for reproduction. They might have lost one of their trademarks - but they found a brilliant new one - and maybe even more important - found the way back to enjoy making music - a fact that's audible in every little note on Abandon!
Track by track
Any Fule Kno That
Unlike "Ted The Mechanic" on Purpendicular, this one's not just a great song but also a great opener. It starts with drums and organ and continues with a hooking riff and some brilliant vocal lines, setting the controls for the heart of the album.
Almost Human
Starting with a groovy beat this song keeps what its first seconds promise - a fine rocker, with a great melodious chorus. Definitively one of my favorites.
Don't Make Me Happy
It's stunning how good the band catches the feeling of "When A Blind Man
Cries" in this song. A great bluesy piece of music with a heavy chorus and some nice guitar work.
Seventh Heaven
For those who had the chance to listen to the House Of Blues concerts this one's a well known tune. A lovely intro leads into a blasting riff; a heavy track with a beautiful quite mid-section.
Watching The Sky
An untypical song for Deep Purple. It starts with a key and guitar riff to slow down
after a while - leaving Ian's voice covered with some effects and keys in the background - just to explode into the next part.
Fingers To The Bone
THE song on this album. This one hooks up in mind and will never again let you forget it. I must hear it live!
Jack Ruby
One of the more common songs on Abandon with the big problem of being the song after
"Fingers To The Bone". Interesting solo section.
She Was
This one sounded a bit strange the first times I listened to it, but definitively grew after some time. A interesting riff that's hard to describe. The feeling (not the music) might be comparable to
"Soon Forgotten".
Whatsername
Hmmm. I really can't remember. Not a bad one, but for sure a song that didn't touch me too deep.
69
This one starts with a lovely intro just to mutate into a catchy riff. Maybe the fastest song on Abandon, it offers a dominating guitar and hammond riff and a interesting solo section.
Evil Louie
starts a bit like "Purpendicular Waltz", but finds it's own live after a few seconds. A great bridge leads to a great chorus.
Bludsucker
A remake of an oldie but goodie, inspired by many fans who didn't remember (!?) the original version during the House Of Blues tour 1997/98. This one walks a clever way between past and present. The guitar sounds different than on the other tracks and the solo parts are build upon the actual live performances. That's how re-recordings should be.
Summary
To close this review, I give the word back to Roger Glover: "By expanding our horizons, by being more adventurous and having a bit more fun we're actually entertaining people much more than just by churning out the same dreary standard stuff"
Well done, Purple!