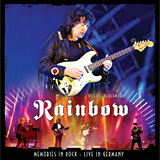 Ever since Ritchie Blackmore speculated about doing a couple of Rainbow shows in 2016, hopes and expectations have lead to very emotional disucssions between fans. To the disappointment of those hoping for one of the former lineups to reunite for the gig, Blackmore didn't go the easy way and - as often - assembled a new team of musicians to accompany him on this adventure.
The band finally announced consisted of current Blackmore's Night drummer David Keith, former Blackmore's Night bass player Bob Nouveau, Blackmore's Night contributor Jens Johansson and LORDS OF BLACK singer Ronnie Romero, which lead to even more discussions between fans and even former Rainbow members with Joe Lynn Turner claiming the planned lineup will be "a Ritchie Blackmore band, but certainly not Rainbow" overlooking the fact that RAINBOW has always been what Ritchie Blackmore wanted it to be.
Three shows took place, two open air shows in Germany at Loreley and Bietigheim while the third show was staged at the Genting Arena in Birmingham, UK. While the two German shows were recorded on audio and video for a later (November 18, 2016) release, the UK show wasn't recorded, which is unfortunate as it did not only feature the most consistent band performance of all three evenings but also was the only show featuring "Soldier Of Fortune" and "Burn".
Sadly, the CD booklet doesn't explain which song has been taken from from Loreley and which song has been taken from Bietigheim which is odd as the second CD contains some bonus tracks from the "alternative night" (which one?) and introductions like "You wanna sing with me, Loreley?" are still included.
Despite all the discussions about the musicians on stage, the setlist had been the major point of criticism, including way too many DEEP PURPLE songs while leaving out a bunch of Rainbow classics. I won't repeat details about the performance which have been already covered in my review of the Loreley show, but one of the major surprises on the CD is Jens Johansson which - now being clearly audible - does a far better job than my memories of the show suggested. For a current release, the CD offers an enjoyable sound with clear dynamics and a well-balanced mix between each instrument.
Is "Memories in Rock - Live In Germany" an album worth buying? That's a question hard to answer. It's a good live album, but for a band as Rainbow, good just isn't good enough. There are more impressive live versions of almost every song out there which leaves the group of potential buyers to completists, people being curious how Rainbow sound in 2016 and those who attended at one of the shows now being offered a perfect souvenir.